Posted by Ruff on October 5th, 2008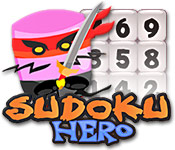 Find the way of the samurai with Sudoku Hero, a bright, samurai-themed spin on the Japanese game of logic and numbers. Fill in each row, column, and 3×3 box with the numbers 1 through 9, without repeating any numbers. Click a square to place a number. Play with a timer or without. Use the solver if you get stuck. With 6 difficulty levels to conquer, Sudoku Hero offers a heroic dose of online puzzle fun.
Welcome to Casualicious dot Com! If you liked the review, please support us by subscribing to our RSS feed through your favorite reader or more conveniently, through Email. Thank you for visiting and have fun casual playing!
Related Posts